Revenue mapping of a journey in NotifyVisitors
Created :

May, 06, 2021

Last Updated :

Jan, 31, 2023
Revenue Mapping of a Journey
A user journey enables you to resolve the pain points of the users and allows you to engage them across different channels as per the different triggers, actions, and conditions. But unless and until you are not aware of where your business is going, you cannot plan further or create strategies to satisfy customers.
Revenue mapping is, therefore, necessary to track the revenue generated in a user journey. NotifyVisitors gives you the opportunity to create user journeys and view the revenue generated on those journeys in a single integrated platform.
Read this article to know how to map out revenue for a journey in the NotifyVisitors dashboard.
What does Revenue in Journey Report Signify :
Revenue in journey report highlights the total revenue generated, the daily average revenue, and total order booked in that specific journey. You can view the revenue generated from a specific event (goal conversion) and also the revenue generated from the journey.
Below are the steps to view the analytics for the revenue in a journey :
1. First of all create a user journey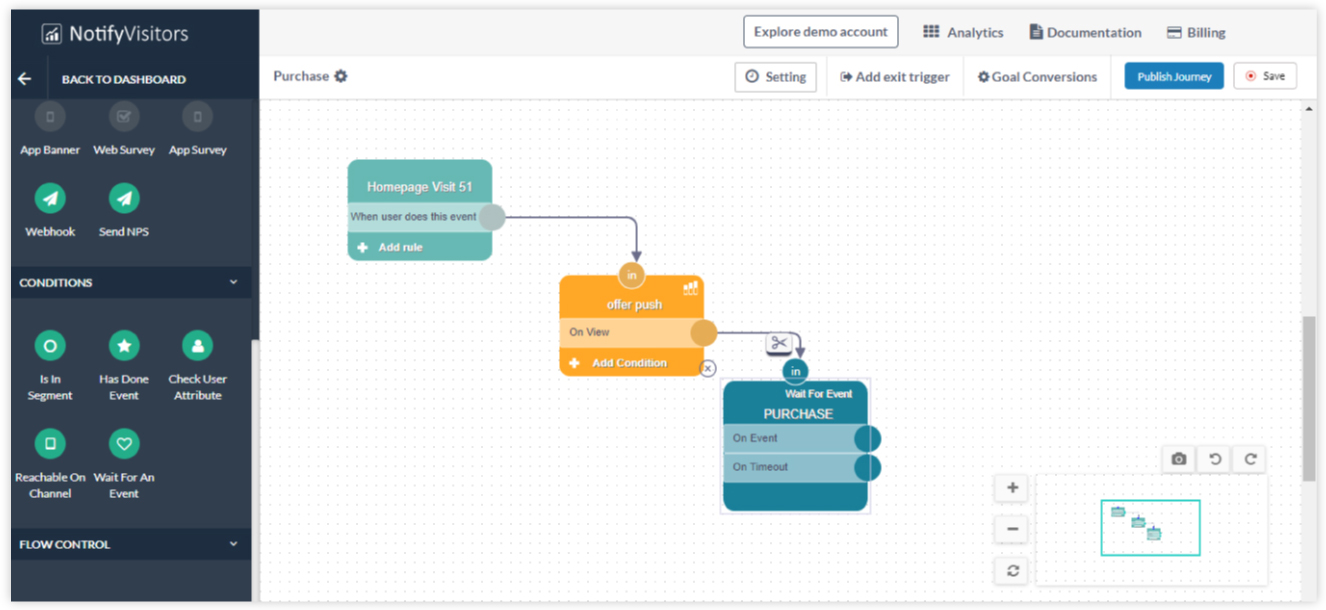 2. Navigate to the analytics> settings> revenue mapping.
Click on the

revenue mapping

to define all its variables.

Revenue currency:

Select the currency, i.e. INR or dollars in which you want to set the revenue.

Label: Define the label for the events for later identification and clarification of the event, whose revenue you want to view or analyze.
Revenue event: Choose the event from the drop-down menu for whom you want to view the total generated revenue.
Revenue attributes:

Select the event attribute from the drop-down menu which you need to pass on the basis of which revenue will be calculated.
2. Next, navigate to analytics> revenue.
3. You can here view the total revenue generated from a specific journey. Apart from the total revenue, you can view the average daily revenue and total order booked on a specific journey.
Here is the reference for the automated report of revenue mapping in the journey :
Conclusion
A well-designed journey helps you get the desired outcomes in terms of better revenues. By analyzing the critical points of the customer journey, you can know how they are interacting with your brand and why customers are taking certain actions. Dig deeper into the data and move customers through the sales funnel. Create a better experience to earn better revenues.