How can financial websites A/B test to drive conversions
Created :

Nov, 08, 2019

Last Updated :

Jan, 17, 2022
Numbers, Ratios, Margins, and Performances are an integral part of a financial website. These websites are better known for providing security and effective customer service. Thus reaching out to the audience with the best products alongside its content is a prerequisite. Users will only turn up when they feel safe and secure to invest in anything. What makes them feel and secure is the way the financial content is presented to them.
Therefore, a/b testing becomes all the more important to optimize each and every aspect of a financial website. It makes a financial website more powerful with its key functionalities.
A/B testing and financial websites
A/B test enables financial marketers to identify the productive components of a promotional marketing strategy.

A/B test allows us to test several elements of a strategy - emails, website copy, forms to an online advertisement.

Empiric data revealed by A/B testing helps a financial marketer to ensure success with its next campaign.
How can Financial website employ A/B test to attain maximum conversions :
1. Show in-depth product info
Usually, customers are not aware of all the products of financial websites. A financial marketer must provide him in-depth knowledge of the product so that he can invest in better products. It allows a user to form tactful decisions.
2. Add a compare product option
Provide great customer experience to the users by giving them product comparing options. Also, make sure you are presenting fewer options for the users to choose the best out of all. Remember, too much information can jumble the mind of users.
3. Engage users with a simple question
Ask your users simple questions after they perform a specific action on your site. Forex- Ask them if they have found what they were looking for and then get feedback from them by asking them to complete a satisfaction survey.
4. Ensure to have clickable areas in mobile devices
Mobile browsing experience is usually different from the device browser experience. Thus, users find it complex to click on a particular product as they have to click on the precision with fingers. Thus, You must make sure to allow the clickability of the whole product and not just a distinctive clickable area as given in the below image.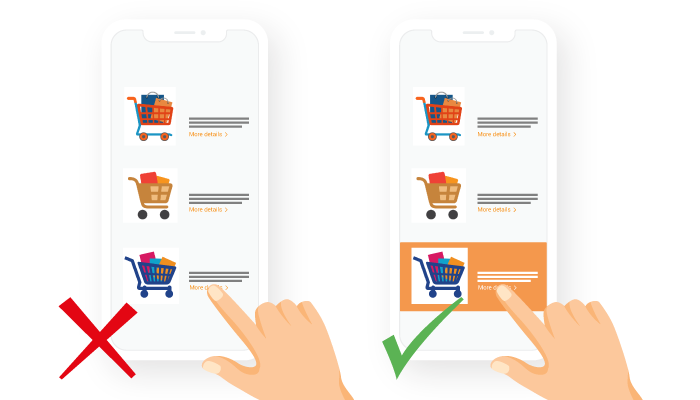 5. Save customer's card details
Place an option for the users to save their card details while making payment. So, that it would be easier for them to navigate through the page. It will ensure a smooth flow of functioning for the users as they don't need to fill the details time and again.
6. Allow users to register through social media
Nobody likes the lengthy process of registration.
Reason: No one wants to add one more account to the zillion ones. Thus keeping the option to register through social media is quite a feasible one.
Customers all over the world are relying on digital financial services. They can now borrow, deposit or transfer money through digital means as per their convenience. This mind-boggling transition has led to the emergence of numerous financial websites providing innumerable financial services and products.
A/B testing is a quick solution to test different products or services. Thereby you can analyze which of them are working better after making small changes in them.