How to configure auto-close feature in lead form
Created :

Jul, 01, 2021

Last Updated :

Dec, 06, 2023
LEAD FORMS
Lead forms are a great marketing tool for collecting information about prospects. You can further engage the leads with newsletters, blogs, and relevant content. Lead generation is an important part of any business to further convert them by educating them and making them aware of your products.
NotifyVisitors enables you to create a lead form, customize it and evaluate the effectiveness of the campaigns. Also, you can automatically disable the visibility of the lead form upon its submission, with the help of the AUTO-CLOSE feature.
Read this article to know how to configure the auto-close feature in the lead form.
HOW TO CONFIGURE THE AUTO-CLOSE FEATURE IN LEAD FORM
Lead forms can uplift your business conversions to an extensive rate and they are of great relevance as you can collect all the relevant information of the leads to further engage them. Now, you can provide the feasibility to your visitors as they do not have to close the lead form manually. Once they submit the form, you can send them a THANK YOU message and configure the auto-close feature on it so that the thank you screen fades away automatically after your predefined time frame.
Follow the below steps to configure the auto-close feature :
Navigate to the notifyvisitors dashboard> sign-up forms> forms.
2.Move to the EDIT section of any form and click on BASIC DETAILS of an already existing lead form.
3.Go to the Thank you screen of the DESCRIPTION settings to navigate to the AUTO CLOSE feature.
4. Next, Give a value in the auto close field to enable the lead form to be automatically closed after the defined time frame.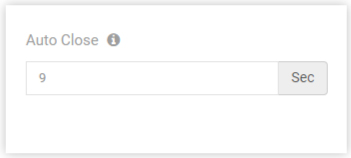 Note: If we give a zero value in the auto-close feature, the lead form will not close automatically.
Follow the above steps to configure the auto-close feature in lead forms.